Teaching
Having recently relocated to the Atlanta metro area, Finnish pianist and piano teacher Kati Arikoski-Johnson is offering her expertise and accepting new students who are excited to learn piano.
Kati is a trained classical pianist who earned degrees from Turku Arts Academy in Finland and the Royal Danish Academy of Music in Copenhagen, Denmark. She also studied in University of Music and Arts in Austria.
Kati has over 20 years teaching experience and her teaching style is student centric with an approach to inspire and encourage. She is also multilingual and can offer instruction in Danish, Finnish, or English. This is a great opportunity for new and advanced students alike.
Lessons are located one block from Dearborn Park and provided on a 5'10" Hailun grand piano. Sign up early! Kati had a long wait list in Denmark before moving to Decatur.
Feel free to email: kati@arikoski.com or call/text at: 404-502-2309.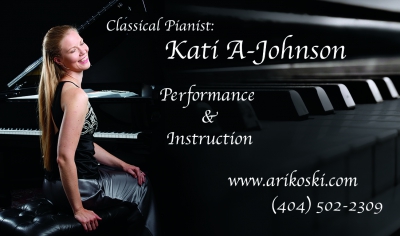 Kati's previous student Jonathan Rokni, 11 years, writes:
" Kati is really sweet, the very best teacher I have ever had. She is helpful and you learn easily with her.
His mum writes:
" Never before have I seen such an engaged teacher. Kati understands how to motivate the student and to find into the music of that personality. She digs out love for the music in each heart. It is thrilling to watch. "
Sofie Saxtoft from Denmark writes:
"Kati was our daughter Alva's piano teacher for 3 years before Kati moved, starting when Alva was 6 years old. Alva loved playing with Kati – mostly because Kati is such a playful and smiling person. Always ambitious, but also very aware that music is about having a good time. She used different games, improvisation techniques, stories, etc. to always keep Alva motivated to learn both musical theory and technical skills. And she was extremely good at reading and understanding just what our daughter needed to learn more, dare more, and just have a good time playing music. We miss Kati a lot, and we give her the warmest recommendations!"